Porter White & Company, a Birmingham-based investment bank, is pleased to announce that it has  completed the sale of Franklin Iron Works, Inc. and Alabama Castings, LLC (collectively "Franklin Iron" or the "Company") to Druid Capital Partners and Elyton Capital. PW&Co, led by Michael Stone, served as the exclusive sell-side investment banker to Franklin Iron.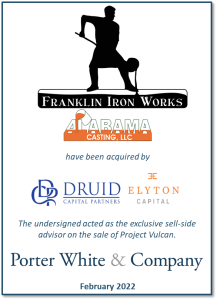 Based in Thorsby, AL, Franklin Iron was founded in 1975 as the Tommie Corporation, and is a leading manufacturer of small, high-quality, ductile iron castings used across many industries including utilities, agriculture, heavy trucking, piping, valves, tooling, and construction. Franklin Iron is recognized across the southeast for the quality of its work and has built a strong reputation in the industry. The Company employs 145 individuals across two facilities in Alabama: one in Thorsby, and another in Aliceville. Led by Allen and Peggy Franklin, the Company has enjoyed great success over the years, and in recent years daughter and son-in-law, Kellyn and Travis Vines, have assumed management of the business.
Michael Stone, Director of PW&Co, said, "It was a pleasure working with Kellyn, Travis, Peggy, and Allen on this very important transaction. We greatly appreciate their confidence in trusting us with this process, and we were proud to be able to achieve an outcome above their expectations and representative of the strong business that they built."
PW&Co acted as Franklin Iron's exclusive sell-side investment banker. The investment banking team was led by Michael Stone with support from Zac Venos. Charlie Hartman and Jon Mills of Maynard Cooper represented the Company in the transaction. Martin Holt (Druid Capital Partners) and Michael Humber (Elyton Capital) led the transaction on behalf of their firms.
If you are interested in selling your business, acquiring a company, or learning more about what your business is worth, please email Michael Stone or call him directly at (205) 458-9137.
PW&Co's sell-side M&A services related to the asset sale were provided through its affiliate, Porter White Capital Advisors, Inc.