During June, the FOMC voted to maintain the current target fed funds rate of 2.25-2.5% despite vocal opposition from the outside. Threats of an inverted yield curve still loom although economic conditions are still holding up better than expected. Inflationary pressure remains largely absent as core inflation expectations (excluding food and energy) have decreased to 1.8% from 2% in March. Yields on BBB municipal securities have decreased across the entire curve relative to higher credit quality muni bonds.
Municipal G.O. Yield Curve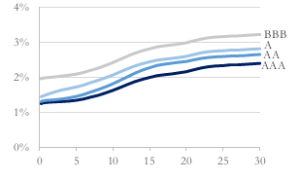 Our Municipal Market Update is data-driven, one page sheet that is intended to give you an overview of key interest rates – both floating and swap-to-fixed as well as the credit spreads of key local and state entities with data as of May 31, 2019. It is written for those making credit and investment related decisions for municipalities and non-profit institutions. If you have additional questions or would like to learn more about our municipal advisory and investment banking services, visit our Municipal Advisory page and contact Michael Stone, CFA.
Click here to access our Municipal Market Update.