First Bancshares of Stevenson, Inc. of Stevenson, AL ("FBS") and Vantage Bancshares, Inc. of Albertville, AL ("Vantage") announced yesterday the signing of a definitive agreement under which FBS and Vantage will enter into a strategic merger to combine two well-respected banking franchises. The combined institution will be approximately $525 million in assets and will operate 10 locations as First Southern State Bank (FBS's subsidiary bank) in four northeast Alabama counties.
The deal consideration to Vantage shareholders is a mix of cash and a special dividend. Other financial terms were not disclosed.
Porter White Capital Advisors, Inc. served as financial advisor to FBS and First Southern State Bank in rendering a fairness opinion. The merger is expected to close no later than the fourth quarter of 2019.
Principals of Porter White Capital Advisors, Inc. have advised on 9 Alabama community bank mergers since 2016.
Details on the transaction may be found by clicking here.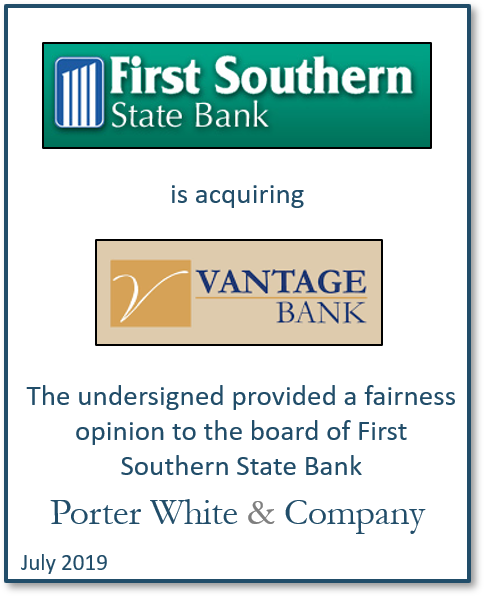 For more information on how we can assist your bank with its merger and acquisition needs, please email Michael Stone or call him at (205) 252-3681.
Securities offered through Porter White Capital, LLC, member of FINRA/SIPC and a wholly owned subsidiary of Porter White Companies, Inc.