The best way to understand what is happening in your market is to do what Alabama Community Bankers excel at every day…understanding your clients and their financial needs. That said, having reliable, timely economic data applicable to your community is a great way to compliment your existing market knowledge to help your bank develop strategies to best serve your customers, shareholders, and community.  Historically, that meant using annual or quarterly GDP or unemployment data to develop strategy. Given the unprecedented volatility we are seeing in our nation's economic data, that will not work anymore. This article will provide an overview and links to free data sources that provide monthly, and in some cases daily, economic updates relevant to your market, and will discuss what current indicators mean for the Alabama economy. 
GDP
State, county, or city GDP information can be found at the Bureau of Economic Advisors site. We do not find this particularly useful, as county/city GDP is only produced once a year, and state level GDP is only produced quarterly.
Unemployment
This is a very powerful indicator. It is timely (produced monthly) and highly correlated (R squared of 62%) to Alabama Community bank profitability, as reflected in the chart below.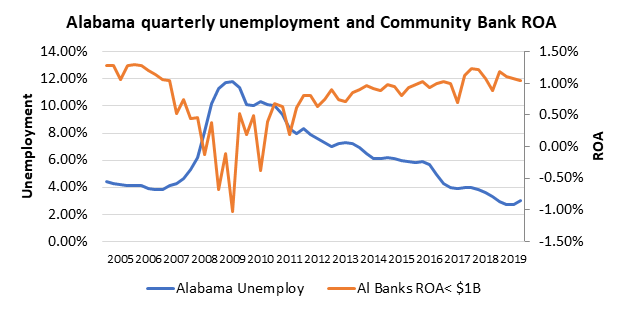 The Alabama Department of Labor site provides a wealth of monthly unemployment data at the State, City and County level, as well as weekly information by county and industry on unemployment claims. Use caution when utilizing unemployment information, as double couniting and potential fraudulent applications may skew results, however, this data does give very timely views on local economic trends. (Note: Community banks have less than $1B in asssets)
http://www2.labor.alabama.gov/default.aspx
Help Wanted Online Survey ("HWOL")
A very useful view of future unemployment levels. Produced monthly by The Conference Board, it provides views on current online unemployment advertisement by occupation, salary, and employers, as well as a snapshot of unemployment data.
http://www2.labor.alabama.gov/workforcedev/hwol/al.pdf
In normal times, unemployment is an optimal indicator of economic activity. These are not normal times. In the past several months, we were showing record levels of unemployment, yet banks remained solidly profitable with minimal credit issues, primarily due to $3 trillion in fiscal stimulus, most of which is in the form of enhanced unemployment benefits. The easiest way to track this measure is from the St Louis Federal Reserve web site. Produced monthly and on a national level, it reflects the level of Unemployment Compensation being provided across the country and gives the reader a good view personal income of unemployed individuals in their communities.  This is an important measure, especially for sates like Alabama which typically pay lower than average levels of unemployment insurance.
https://fred.stlouisfed.org/series/W825RC1
Census Pulse Survey
A weekly state level survey produced by the US Census Bureau of Small Business views on how COVID has impacted their business. Provides a very useful view of the "typical" community bank business client's economic outlook, and what industries are most impacted.  Make sure you click on the Survey Question dropdown…lots of useful information there regarding revenue, employees, liquidity, and loan activity.
https://portal.census.gov/pulse/data/
Opportunity Insights
Provides daily Consumer spending data by State and most Alabama counites as well as Small Business Revenue, Small Business openings and Job postings by State and Industry.  The site also has unemployment information, but we find the Alabama Department of Labor superior to this data.
Redfin
Weekly housing data by county including median listing and sales price, new listing activity and homes sold.  Mortgages and residential construction lending are a big part of our business, and this site gives useful views into that market.
https://www.redfin.com/blog/data-center/
What does this data tell us?
As reflected by the chart below, the above indicators reflect Alabama's economy is clearly outperforming the nation, but still has a way to go to meet pre COVID unemployment levels of 3.0%.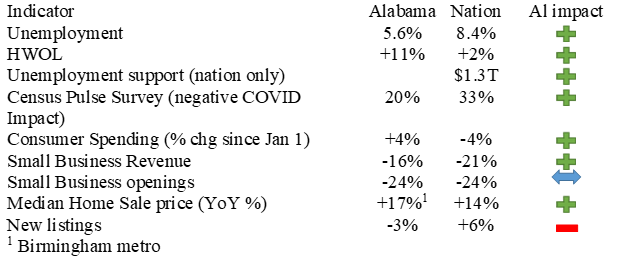 Please feel free to contact Porter, White & Co. at 205-252-3681 if you would like a detailed economic overview for your market.