Deposit market share data for the U.S. banking system, which provide insight to a given market's competitive landscape, were released in late September by the FDIC. Such data are released annually by the FDIC as of each June 30th. An examination of metro Birmingham's banking market demonstrates growth by community banks at the expense of their larger competitors.
Michael Seale with the Birmingham Business Journal recently discussed trends in Birmingham's deposit market share since 2011. Seale noted the top four spots have been held by the same banks since 2011 (1. Regions, 2. BBVA Compass, 3. Wells Fargo, 4. First Commercial Bank/Synovus and that ServisFirst Bank cracked the top five for the first time in 2013, replacing BB&T, where it has remained since.
A closer look shows ServisFirst is not alone among mid-sized and community banks in taking on greater deposit market share in Birmingham. Cadence Bank and Iberia Bank, which both assumed failed Birmingham area banks during the Great Recession, have increased their market share every year since 2011 and now sit in 6th and 10th places, respectively (out of 48 institutions). Other community banks seeing their market share increase from 2014 to 2015 and sitting in the top twenty include National Bank of Commerce (1.4 percent, 11th place), Bryant Bank (1.3 percent, 12th place), Oakworth Capital Bank (0.8 percent, 15th place) and First Partners Bank (0.6 percent, 19th place).
These community banks have grabbed deposit market share at the expense of their larger, regional competitors. As Mr. Seale pointed out, three of the top four institutions (Regions, Wells Fargo and First Commercial) saw a decrease in market share from 2014 to 2015 with only BBVA Compass seeing its share increase. BB&T and PNC are other larger banks with declining market share over the last five years. In 2011 BB&T was fifth with a 3.8 percent market share; today it is seventh with a 3.1 percent share. PNC was seventh in 2011 with a 2.6 share while today it is eighth with a 2.4 percent share. The collective market share of these six "big" banks in 2011 was 78.0 percent; today it is down to 73.5 percent.
The following table provides details on Birmingham's top ten for deposit market share over the last five years.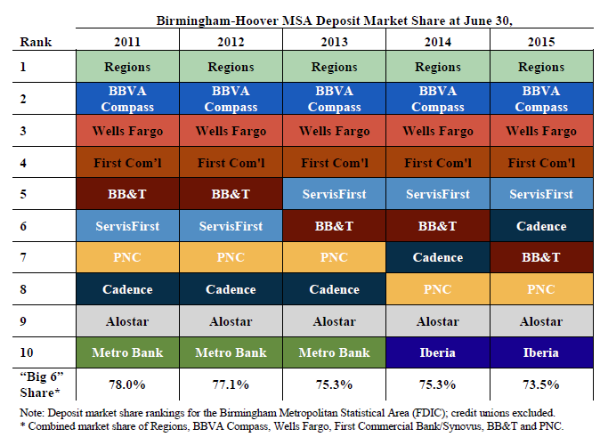 A number of questions come to mind in attempting to explain the shift in Birmingham's deposits. Are consumers seeking the personalized service on which community banks pride themselves? Are larger banks running off depositors by imposing various checking account fees? Are smaller banks more aggressive in offering higher deposit rates than their larger competitors? Whatever the causes may be, there is a discernible trend in which the large players in Birmingham's banking scene are ceding market share to the community banks.