This past August Porter White attended the Alabama Bankers Association's CEO and Directors College in Point Clear, AL. One frequent topic of discussion was the bank merger marketplace. There seemed to be a general consensus that the M&A market was heating up in terms of both number of deals and deal pricing, but there was less agreement as to the intensity of the recovery. Some presenters and attendees thought an "explosion" in bank M&A was imminent while others predicted a more gradual recovery.
A Mixed Bag…YTD 11/30/15 Bank M&A Scorecard
The data below yield some interesting conclusions. On one hand, deal activity has conspicuously increased over 2014 and is near pre-recession levels. However, deal pricing, while improved, still lags pre-recession valuations by a considerable margin. The intensity of the M&A recovery seems to be a mixed bag.
Deal Flow Up over Last Year…
Nationally, bank and thrift M&A activity year-to-date through November 30, 2015 is ahead of 2014 with 261 deals announced so far this year (254 deals YTD 11/30/14). In the Southeast, deal flow is noticeably up over last year with 58 deals announced through 11/30/15 (51 deals YTD 11/30/14).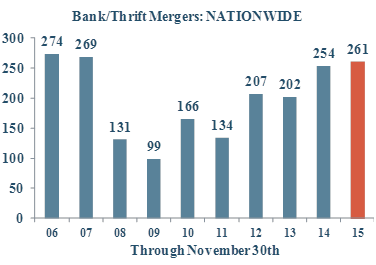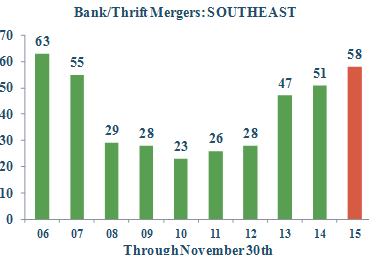 Note: All chart data courtesy of SNL Financial. Southeast: AL, AR, FL, GA, MS, NC, SC, TN, VA and WV.
…While Deal Pricing Recovers at a Deliberate Pace
Nationally and regionally, deal pricing has recovered from the low points four to six years ago but clearly continues to trail pre-recession valuation levels when looking at Price/Tangible Book multiples or Price/Deposit multiples. Interestingly, pricing for deals in the Southeast currently exceeds pricing for deals nationwide; this follows several years through the recession of Southeastern deal pricing lagging national pricing.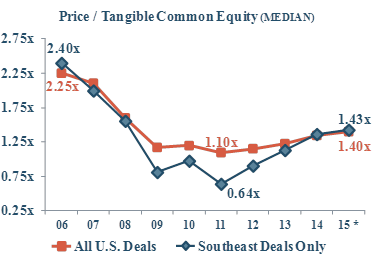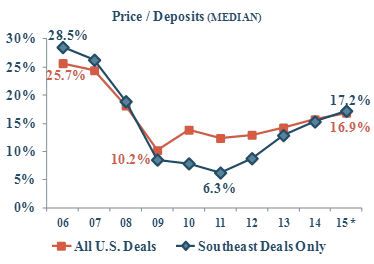 *2015 is through November 30th.
Note: Price-Earnings multiples not shown due to the abnormally high preponderance of sellers with little or negative earnings in the 2009-11 period.
The general increase in median pricing is evident and sellers are by and large garnering premiums to book, but valuations are not frothy like they were in the "go-go days" before 2008.
Hold the Phone
So who is correct? Is it the "explosion" camp or the "gradual" camp? While the increase in the number of deals would indicate the M&A recovery is full-steam ahead, it cannot be overlooked that today's pricing is still far below pre-recession valuations. Until more robust valuations are present, we are likelier to see a gradual rather than explosive recovery in the bank M&A marketplace.
Should your board elect to explore the M&A arena, Porter White can provide a candid, objective assessment of the marketplace as it specifically relates to your institution.
Please contact Michael Stone, CFA (205.252.3681; michael@pwco.com) for more information on the bank M&A marketplace.