On March 3, 2020 the Fed cut the overnight target rate by 0.50%. Uncertainty surrounding COVID-19 continues to create strong demand for safer treasury securities, driving down treasury rates throughout March; however, municipal bond yields (measured by AAA General Obligation Bonds) increased significantly during the month, particularly in relation to a decline in treasury rates. The 30-year municipal/treasury ratio increased to 147% at the end of March, an increase from 90% at the end of February.  Throughout March, the municipal market was incredibly volatile, causing disruptions in new municipal bond issues. At the end of March, volatility remains, and the municipal rate outlook is still uncertain.
US Treasury Yield Curve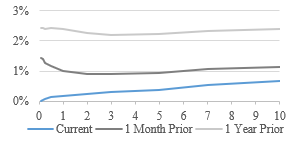 Our Municipal Market Update is data-driven, one page sheet that is intended to give you an overview of key interest rates – floating as well as the credit spreads of key local and state entities with data as of March 31, 2020. It is written for those making credit and investment related decisions for municipalities and non-profit institutions. If you have additional questions or would like to learn more about our municipal advisory and investment banking services, visit our Municipal Advisory page and contact Michael Stone, CFA.
Click here to access our Municipal Market Update.