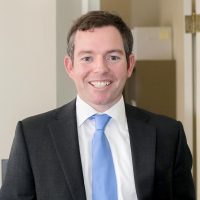 Porter, White & Company is pleased to announce that Michael Stone recently earned the Accredited Member designation with the American Society of Appraisers in the Business Valuation discipline. Advancement to Accredited Member is granted after completion of education requirements, approval of over 4,000 hours of full-time valuation and appraisal experience, and an appraisal report review by the ASA's International Board of Examiners.
As a financial analyst with Porter, White & Company, Michael has valued numerous closely-held businesses for the purpose of gift and estate taxes, strategic planning, credit quality, and in support of a capital raise or acquisition.
His valuation experience also includes
Controlling and minority interests in private operating companies,
Interests in private investment companies,
Marketable equity and fixed income securities, and
Interests in privately-held real estate investments and real estate partnerships.
In the Investment Banking practice, Michael's areas of focus include business valuations, financial advisory services for both growing and distressed companies, and general investment banking services relating to private debt and equity placements.