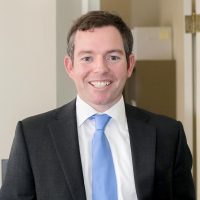 Porter, White & Company is pleased to announce that Michael Stone has earned his CFA (Chartered Financial Analyst) designation. He joins Goodloe White as the firm's second CFA Charterholder. In addition, Michael is also an Accredited Member of the American Society of Appraisers in Business Valuation. These designations represent a significant investment in the science behind valuations and understanding of financial markets.
The CFA Program is a globally recognized, graduate level curriculum that provides the strong knowledge and expertise finance professionals need in today's fast-evolving workplace. To earn the CFA charter, candidates must sequentially pass three six-hour exams that are widely considered to be the most rigorous in the investment profession, have four years of qualified work experience, and pledge to adhere to the CFA Institute Code of Ethics and Standards of Professional Conduct.
Michael is an Associate at PW&Co and is active in the firm's investment banking practice. Michael's focus at Porter White includes business valuations, financial advisory services for both growing and distressed companies, and general investment banking services relating to private debt and equity placements. Michael received his bachelor's degree from Georgetown University with a double major in Finance and OPIM (Operations and Information Management).