In "Party Like It's 1999?…First Quarter 2015 Bank M&A Scorecard," we review the merger marketplace and look for clues to understand the forces currently affecting bank M&A.
Porter White is also pleased to present "CFFB 'Hot-Button' Areas to Know" by Dave Dresher with Bradley Arant Boult Cummings LLP. In the article, Dresher discusses the typical areas of violations or concerns which the CFPB is finding in its examinations. Specifically,
Are consumer reporting agencies properly responding to disputed credit report items?
Are the collection activities of creditors involving delinquent loans compliant?
Are deceptive practices being used in overdraft calculations?
Are lenders complying with various regulations regarding residential mortgages?
Party Like It's 1999?…First Quarter 2015 Bank M&A Scorecard
Bank & thrift M&A activity started off with a bang in 2015 as 66 deals were announced nationwide in the first quarter. This represents an 18% increase over first quarter 2014 when 56 deals were announced. In the Southeast 14 deals were announced, marking the most active first quarter since 2007 (22 deals).
While Deal Flow is Climbing Steadily…
Deal activity in 1Q15 outpaced previous first quarters both nationwide and in the Southeast and is climbing back towards the crest of the last M&A wave in 2007.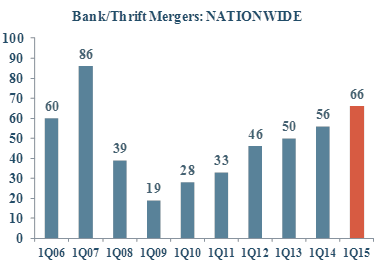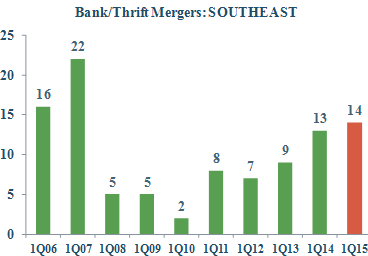 Note: All chart data courtesy of SNL Financial or the FDIC.
In twelve of the last fourteen years (2001 to 2014), deal activity accelerated in the latter three quarters of a given year. If such a trend holds, 2015 could possibly be the most active year for M&A since 1999 when 334 deals were announced.
…Deal Pricing is Recovering, But at a Snail's Pace
Nationally and regionally, deal pricing has recovered from the low points four to six years ago but clearly continues to trail pre-recession valuation levels when looking at Price/Tangible Book multiples or Price/Deposit multiples.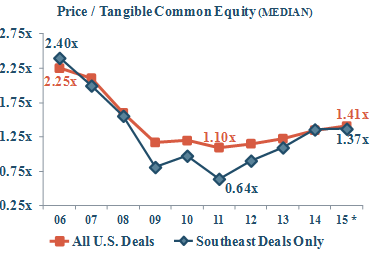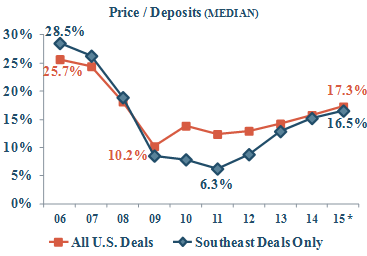 * 2015 is the first quarter only. Note: Price-Earnings multiples not shown due to the abnormally high preponderance of sellers with little or negative earnings in the 2009-11 period.
Why is Pricing Not Rebounding as Quickly as Activity?
There are many factors that influence the bank M&A marketplace and which ultimately determine what the market will bear for prospective sellers. Some have asserted that even though deal activity is approaching pre-recession levels, there has been a paradigm shift in what constitutes "full value" for a bank and that it will take a long time for the market to return to pre-recession pricing, if ever.
While such assertion and other factors are beyond the scope of this article, a comparison of the financial health of banks selling today vs. sellers before and during the recession helps explain the slow recovery in pricing multiples. Sellers today, while healthier than sellers in the depths of the recession, still under perform when compared to their brethren who sold before the recession.
The charts below show the breakout of sellers in a given year by positive or negative Return on Average Assets (ROAA) on both a national and regional basis. While 80% of sellers nationally and 71% of Southeastern sellers had positive ROAA in 1Q15, this is still below the pre-recession period when roughly 9 in 10 sellers had positive ROAA.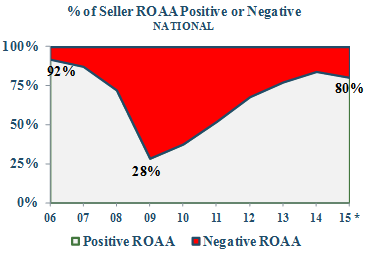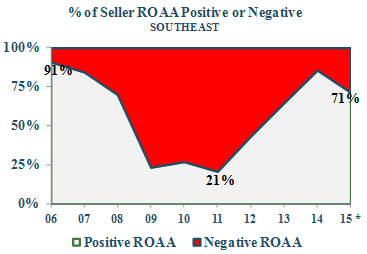 * 2015 is the first quarter only. Note: Percentages listed are the percentage of sellers with positive ROAA in a given year.
A comparison of the asset quality of sellers vs. the general bank population might also partially explain the slow recovery in deal pricing. Sellers have not been as clean as banks in general. The first chart below compares sellers nationwide vs. all U.S. banks while the second chart below compares sellers located in the Atlanta Fed district vs. all banks in the Atlanta Fed. Both charts show that sellers had lower Nonperforming Assets/Total Assets ratios until 2010-11; however, sellers have essentially held higher NPA levels than all banks the last 4-5 years.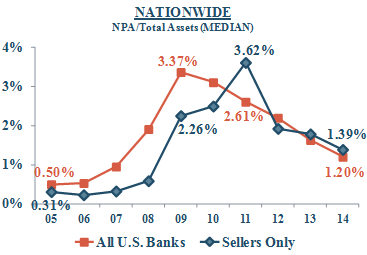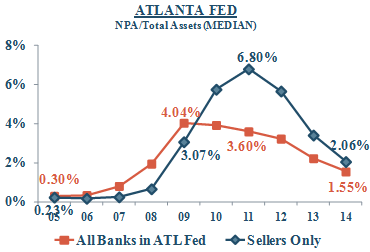 The data above seem to indicate that distressed sellers were dragging down pricing multiples to some degree. Furthermore, current and recent sellers might also be exposed to a "lag effect" as the marketplace continues to shake off the effects of the severe and prolonged recession. As distressed sellers constitute an increasingly smaller percentage of the overall seller universe, it will be interesting to see if the rise in deal values accelerates and ultimately reaches pre-recession levels.
Please contact Michael Stone, CFA (205.252.3681; michael@pwco.com) for more information on the bank M&A marketplace.

CFPB "Hot-Button" Areas to Know
This article appears courtesy of J. David Dresher with Bradley Arant Boult Cummings LLP in Birmingham, Alabama. Mr. Dresher chairs the firm's Banking and Financial Services group.
The Consumer Financial Protection Bureau (CFPB) recently released its Winter 2015 "Supervisory Highlights", which describe a number of regulatory concerns identified by the CFPB in its examination process for the six month period of July 2014-December 2014. The violations and other regulatory concerns identified by the CFPB during that period provide a good indication to regulated entities of potential problem areas that should be evaluated and, if needed, updated and corrected within their organizations.
The CFPB focused particularly on the following concerns:
Whether consumer reporting agencies were properly responding to disputed credit report items;
Whether bank and non bank creditors complied with the Fair Credit Reporting Act and the Fair Debt Collection Practices Act in connection with collection activities involving delinquent loan accounts;
Whether financial institutions engaged in deceptive practices in modifying the basis for calculating a customer's account balance when determining whether an item would result in an overdraft (and, accordingly, an overdraft fee); and
Whether mortgage lenders were complying with various federal statutes and regulations affecting the residential mortgage lending business.
This Update will focus particularly on the concerns identified for mortgage lending activities.
Federal law prohibits a mortgage loan originator from being compensated in any way based upon the terms of a residential mortgage loan. This regulation is complex and frequently difficult to apply to individual compensation arrangements. The CFPB determined that branch managers who also served as mortgage loan originators in many cases were being compensated based on branch profitability in a manner that violated the restriction on compensation.
Federal law requires that within three business days of a mortgage loan application, the loan applicant must be provided with a "good faith estimate" of closing costs. The CFPB found that in certain "no cost" refinance transactions, the disclosures provided to the borrower were inaccurate and violated federal law. The CFPB required the lenders to refund the excess amounts. Additionally, the CFPB concluded that some lenders did not have adequate procedures to clearly determine the date upon which an "application" was received, and accordingly such lenders failed to measure the timing requirements correctly for delivery of a good faith estimate.
The CFPB found that certain lenders failed to comply with advertising disclosure requirements when advertising through various social media formats. Lenders are reminded that the rules governing advertisements generally, and which determine whether certain special disclosures must be provided in connection with a loan advertisement, apply to advertisements made through social media to the same extent as they apply to the advertisements in traditional print or broadcast media.
The CFPB found that creditors failed to provide the required "adverse action" notice to loan applicants of the creditor's decision not to approve the application within the requisite 30-day period after application. The failures were attributed to weaknesses in the lenders' audit and compliance programs.
The CFPB emphasized that at one or more institutions, a weak compliance management system allowed numerous violations of federal law to occur. Here, the CFPB noted that the necessary components for an effective compliance management system would include:
Board and management oversight
Compliance program
Consumer complaint management program, and
Compliance audit program.
The CFPB encourages each institution's board of directors and senior management to adopt clear policy statements on consumer compliance, establish compliance policies and procedures, and assign resources to the compliance function necessary to adequately address compliance and regulatory requirements. The institution's compliance audit program should assist the board in determining whether the policies adopted by the board are being implemented, identifying any significant gaps in the board's policies and standards. This emphasis of the CFPB on compliance management systems should be a wakeup call for every institution to make certain that matters involving compliance and regulation are given substantial attention at the board and senior executive level, and that the appropriate emphasis be communicated to all employees.
The CFPB found that some institutions failed to consider appropriately public assistance income or other sources of income available to loan applicants. Federal law prohibits a creditor from discriminating against a loan applicant on the basis that some or all of the applicant's income is provided through a public assistance program. Further, federal law requires that such income not be excluded in evaluating an applicant's ability to repay. The CFPB concluded that lenders had failed to comply with requirements regarding these statutorily protected forms of income, with some lenders automatically declining applications that relied on income from a non employment source, such as social security income or retirement benefits. The CFPB also noted that on November 18, 2014, it issued a Bulletin to provide guidance to lenders regarding permissible verification of social security disability income: http://files.consumerfinance.gov/f/201411_cfpb_bulletin_disability-income.pdf
The Bulletin states that requiring impermissible documentation from applicants that receive and rely on social security disability income could violate fair lending restrictions regarding evaluation of a loan applicant based on public assistance income. The Bulletin particularly calls into question the permissibility of seeking additional information about the applicant's disability or a doctor's note regarding the likely duration of such disability. Lenders should review this Bulletin and make sure that their treatment and evaluation of social security disability income is consistent with this CFPB's guidance.
The Winter 2015 Supervisory Highlights are available at: http://files.consumerfinance.gov/f/201503_cfpb_supervisory-highlights-winter-2015.pdf.
Please contact Dave Dresher with Bradley Arant Boult Cummings LLP (205.521.8605; ddresher@babc.com) for more information on CFPB-related issues.