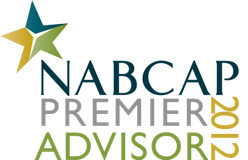 Porter, White & Company is pleased to announce that it has again been named on the National Association of Board Certified Advisory Practices (NABCAP) Premier Advisor List.
Porter White was also listed in the Birmingham Business Journal's Book of Lists, where it is ranked in two other financial areas: Financial Planners (13th) and Investment Brokerage Firms (8th).
Porter White is unusual in its ability to provide middle-market investment banking services (including valuation and capital raises) in addition to investment management services. The firm's background and expertise in both areas enables us to deliver better results for our clients.
About NABCAP
NABCAP states that it is a non profit organization and does not receive compensation from firms included on its list. NABCAP maintains a web site providing information on the organization and its objectives. The organization states that its decision to include a firm on its list of Premier Advisors is based on responses to a questionnaire to which all registered financial advisors in a designated geographic area are invited to respond and a review of the SEC filings of advisors. Clients are not surveyed. Advisors are listed alphabetically and not in any rank order.