While the great recession is starting to fade and markets are reaching new highs, the Federal Reserve is keeping interest rates at historically low levels. One explanation for the Fed inaction is employment levels. There remain fewer people working now than at the end of 2008.
The following employment chart explains part of the story (up to October 2013). At its peak in 2008, the US economy employed $138 million workers. By 2010, the economy had lost more jobs than had been created in the prior 4 years. Since 2010, the economy has been generating jobs, but at a lower rate than prior to the recession. Except for a short term acceleration in job growth in 2010 due to temporary US Census hiring, job growth has remained sluggish.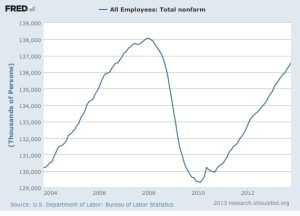 For those of us who live in Alabama, the picture is worse. Alabama has had a similar decline in employment but has only recovered to the level of employment experienced in 2004, as shown in the following graph.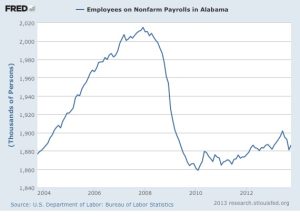 When the US and Alabama graphs are indexed and super-imposed, the comparison is equally stark.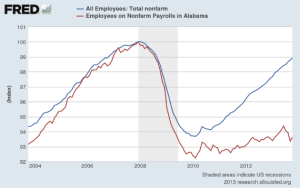 PW&Co's business involves helping clients invest capital, and we and our clients need to be aware of macro trends that impact interest rates and explain market actions. On the investment banking side, we try to understand the business climate to help value companies and raise capital. It is important to recognize that we are in a difficult economic environment characterized and, in part, caused by inadequate employment opportunities.