Henderson Bancshares, Inc. of Troy, AL and First Brundidge Bancshares, Inc. of Brundidge, AL announced yesterday the signing of a definitive agreement for Henderson, the parent company of Troy Bank & Trust, to acquire First Brundidge and its wholly-owned subsidiary First National Bank of Brundidge. Porter White & Company served as exclusive financial advisor to First Brundidge in providing a fairness opinion.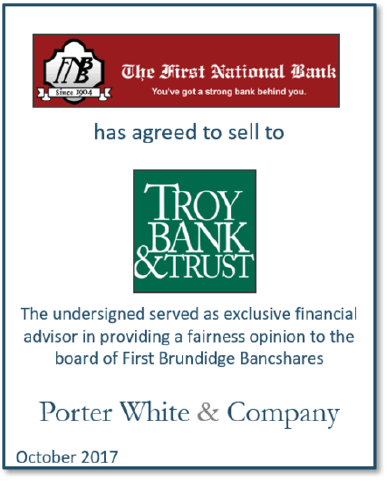 The transaction has been approved by the boards of directors of both companies and is expected to close in the first quarter of 2018, subject to customary conditions including regulatory approvals and approval by the shareholders of First Brundidge.
Both institutions have deep roots in Alabama banking. Troy Bank & Trust was chartered in 1906 while First National Bank of Brundidge has been serving southeast Alabama since 1904. The combined institution will have approximately $950 million in total assets and thirteen banking locations across southeastern Alabama.
If your institution would like to learn more about the merger and acquisition process, trends in Alabama bank M&A pricing or how to go about exploring an acquisition or sale, please contact Michael Stone at (205) 252-3681 or michael@pwco.com.