This report explores a few key statistics that paint a picture of the Birmingham area economy. This is the seventh edition of the newly reinstated Porter, White & Company Birmingham Area Economic Report, which is published quarterly.
Click here to download the full report with a more in-depth look at the statistics.
The chart below shows a snapshot of findings for the last twelve months from December 31, 2014 to December 31, 2015. The Birmingham economy continues to improve steadily, as evidenced by continued growth in four of the five categories above; however, the Birmingham area and the State of Alabama have not quite recovered from the Great Recession as measured by number of persons employed pre- and post-recession. The report also includes a section on employment statistics, as jobs are the most important indicator of economic conditions. This quarter, our report also highlights two county-level economic indicators driven by jobs: population growth and median household income.
Figure 1: Local Area Trend, Last Twelve Months as of December 31, 2015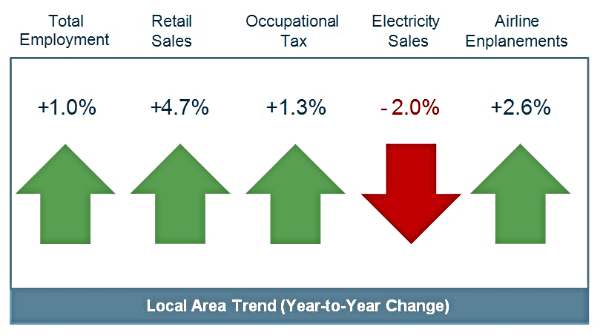 ---
In this report, Local Area is defined as the following for each category: Total Employment (Birmingham-Hoover MSA), Retail Sales (City of Birmingham), Occupational Tax (City of Birmingham), Electricity Sales (Birmingham-Hoover MSA), and Airline Enplanements (Birmingham Airport).  See the full report for other relevant notes.