This report explores a few key statistics that paint a picture of the Birmingham area economy and indicate that the growth of our economy has generally lagged in comparison to state and national growth rates. This is the third edition of the newly reinstated Porter, White & Company Birmingham Area Economic Report, which is published quarterly.
Click here to download the full report with a more in-depth look at the statistics.
The chart below shows a snapshot of findings for the last twelve months from December 31, 2013 to December 31, 2014. In summary, the Birmingham area economy grew modestly in 2014, but as is discussed in greater detail in the report, several areas, including total employment, lagged the growth in the U.S. economy. The report also includes a section on employment statistics, as jobs are the most important indicator of economic conditions. The Birmingham area labor force participation rate has been consistently below the national average.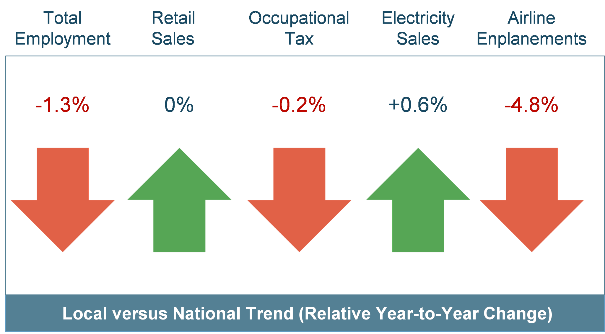 ---
Note:  Local area is defined as the following for each category: Total Employment (Birmingham-Hoover MSA), Retail Sales (average percent growth of the City of Birmingham and Jefferson County), Occupational Tax (City of Birmingham), Commercial and Industrial Electricity Sales (Birmingham-Hoover MSA), and Airline Enplanements (Birmingham Airport).  Changes in retail sales and occupational tax collections are calculated in constant dollars (net of inflation).  If calculated on nominal dollars, percentage changes would be different.