This report is the first in a series of reports that we expect to issue quarterly, reinstituting the Porter, White & Company Birmingham Area Economic Report, which was initially published in the early 1980's. Interim releases will comment on local economic news and analyze in greater depth the statistics presented in this report. Other statistics will be collected on our web site.
We select a few key statistics to paint a picture of the Birmingham area economy, which indicate that the growth of our economy has generally lagged state and national growth rates. A brief summary is included here. Please download the full report for a more in-depth look at the statistics.
The following chart shows a snapshot of report findings for the last two years.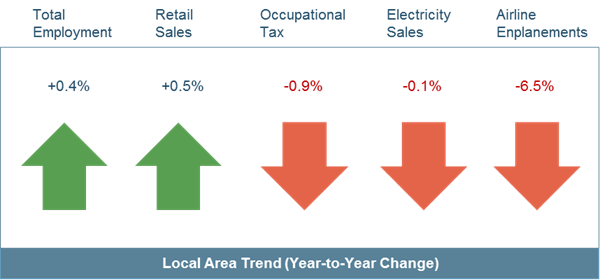 A more complete (and more troubling) picture emerges from an analysis of statistics over periods of 20, 8 and two years ending June 30, 2014, with comparison to national statistics. Click here to see the complete report.
---
Notes: Local area is defined as the following for each category: Total Employment (Birmingham-Hoover MSA), Retail Sales (average percent growth of the City of Birmingham and Jefferson County), Occupational Tax (City of Birmingham), Commercial and Industrial Electricity Sales (Birmingham-Hoover MSA), and Airline Enplanements (Birmingham Airport).