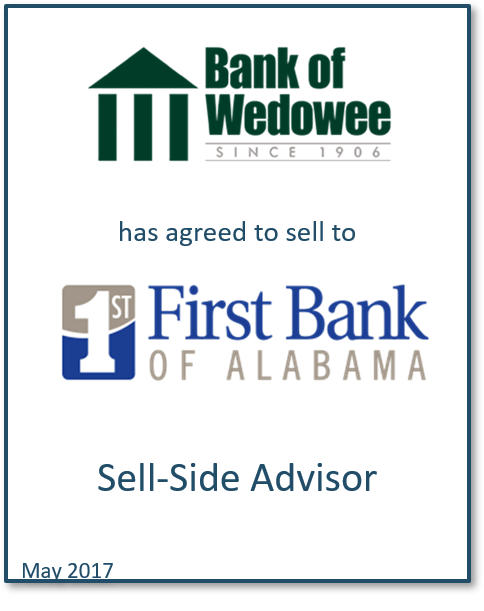 Talladega, AL – FirstBanc of Alabama, Inc. of Talladega, AL and Swann Bancshares, Inc. of Wedowee, AL announced today the signing of a definitive agreement for FirstBanc, the parent company of First Bank of Alabama, to acquire Swann and its wholly-owned subsidiary Bank of Wedowee in an all-cash transaction. Principals of Porter White & Company, acting as registered representatives of Spearhead Capital, LLC, served as exclusive financial advisor to Swann and Bank of Wedowee.
The transaction has been approved by the boards of directors of both companies and is expected to close in the fourth quarter of 2017, subject to customary conditions including regulatory approvals and approval by the shareholders of Swann. Additional terms of the deal were not disclosed.
Both institutions have deep roots in Alabama banking. Chartered in 1848, First Bank of Alabama is the oldest continously operating bank in Alabama while Bank of Wedowee has been serving Randolph County since 1906. The combined institution will have approximately $530 million in total assets and six banking locations in east Alabama.
For more information on how Porter White & Company can assist your bank with its merger and acquisition needs, please contact Michael Stone at (205) 252-3681 or michael@pwco.com.
Certain principals of Porter White & Company are registered representatives of Spearhead Capital, LLC, member FINRA/SIPC, and provided securities-related services through Spearhead Capital, LLC.