Attracting and retaining top talent is competitive in today's job market and offering a retirement plan as part of a benefit package can give your business an edge.
Are you considering starting a retirement plan but don't know where to start? Do you already have a plan but would like to increase participation and have confidence in the plan structure and investment offerings?
ERISA requirements demand a high level of time and knowledge to interpret and apply. We can help with the implementation of a new plan or the management of an existing plan. Let us focus on helping your employees grow their tax-free assets so you can focus on running your business.
The Process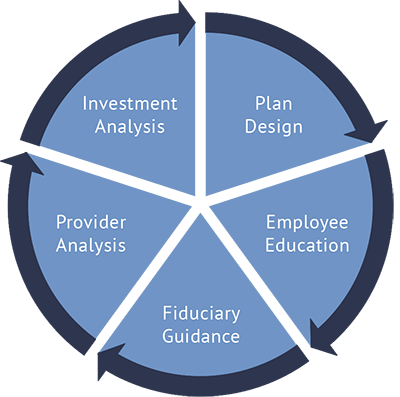 Investment Analysis
We will work with your retirement plan committee to identify and monitor suitable investment options that will allow participants to manage their risk while increasing the likelihood of achieving their retirement goals.
Plan Design
We work with plan sponsors to develop a plan design that meets plan and participant objectives while also maintaining regulatory requirements.
Service Provider Analysis
Because we are an independent, fee-only advisor, we can provide impartial guidance to service provider benchmarking and analysis, which can lower fees and/or improve service.
Fiduciary Guidance
We help plan sponsors understand fiduciary responsibility and carry out the appropriate actions for compliance, allowing your organization to protect individuals with fiduciary exposure.
Employee Education
We go beyond the standard investment-summary speech and guide your employees toward implementing good financial behaviors.
Retirement Plan Consulting Team