We are pleased to present our Newsletter geared exclusively to Alabama's Community Banks.  Our goal is to provide monthly updates on Community Bank M&A, industry issues and our local economy. We hope you find it useful.
Please click the link for a 2 minute read summarizing stock price, M&A activity, economic and industry news of interest to Alabama Community Bankers. A highlight of this month's newsletter are the efforts of major Alabama banks to reduce their dependence on OD fees. Service Charges derived from OD, ATM, and account maintenance fees are major drivers of Alabama Community bank profits. The following chart indicates the impact of a hypothetical 25% reduction in service charges based on Last Twelve Months profits through Q1 21 and indicates small banks ROA would be reduced by 12%, with most other banks less than $1 billion in assets suffering a 3% drop in ROA.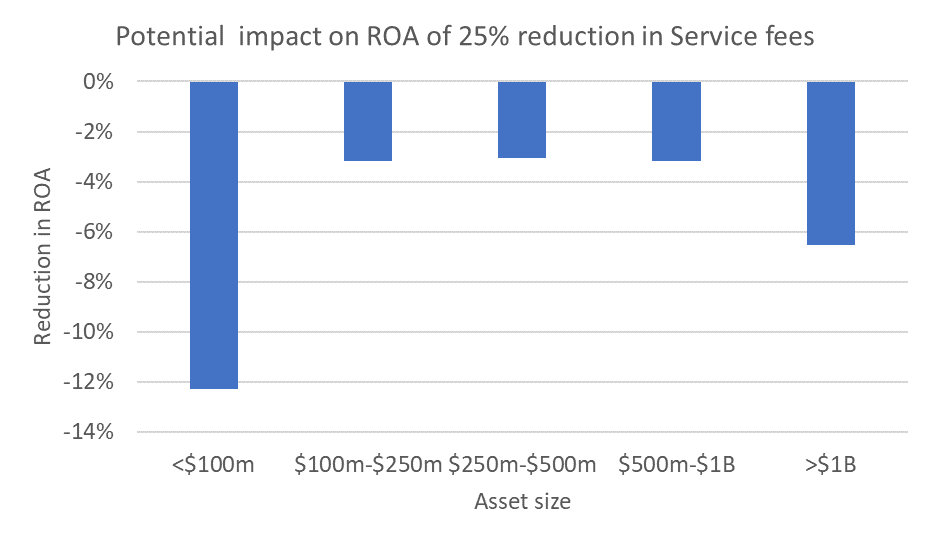 Click here for the newsletter in PDF.
Please feel free to contact me anytime with any questions/comments, and please follow us on Twitter @porterwhite_co for the latest news impacting Community Banks.
For more information on Porter White's community bank practice, please click here.